The energy storage revolution is depending on graphite as much as it does lithium or cobalt and even Elon Musk wants to buy more natural graphite, but today's market price makes it an expensive option.
There are three types of this mineral – synthetic, amorphous and natural, with a major price differential between them. Natural graphite is often used outside of the electric vehicle (EV) energy storage space. It is highly valuable and the biggest issue for natural graphite is finding enough volume at a consistent quality.
Around 50 significant producing mines currently operate around the world, the majority of which (around 75%) are in China, struggling to produce enough quality graphite. The market should look to a new, essentially untapped frontier – Sri Lanka.
Sri Lanka's history when it comes to graphite is compelling. Graphite mined from the island nation is known to be some of the 
purest
 in the world but accounts for 
less than 1% of global production
. Graphite from Sri Lanka is only vein graphite with a in situ purity greater than 90% carbon content, which in this industry is quite significant. For the EV & phone market, graphite is often upgraded to 99.99% carbon content to reach "battery grade" standard, but the resource Sri Lanka has to offer is already extremely close to that. A low-cost producer working in Sri Lanka would have a lock on a key resource to meet an impending demand and also the chance to set the price for high quality graphite.
That is the strategy currently in action by Ceylon Graphite Corp. (TSX-V: CYL, OTC: CYLYF, Forum) an explorer and developer of graphite mines in Sri Lanka through its wholly-owned privately-owned subsidiary – Sarcon Development Ltd. The Company has broad plans and is taking a realistic approach and anticipates beginning production of about 20 – 30 tons per month rising to 200 tons by the end of 2020 and afterwards another 300 – 400 tons per month. This is one of the very few companies in the country to have a license to mine vein graphite in its raw, valuable form.
The significance of raw graphite:
When flake graphite is mined, its carbon content is measured and upgraded, ranging from 10% up to 40% in terms of carbon concentrate when it comes out of the ground, to around 99% carbon content when upgraded. In this form, it is applied to a wide variety of uses, from lubricants to defense industry applications, and has been lately applied to energy storage for EVs and smart devices like phones and tablets and other users of stored energy. The Li-Ion battery anode for example uses 99.99% Cg spheroidized graphite.
Vein graphite is like a solid vein of blood that runs to the rock, solidified many millions of years ago. Sri Lanka is the main producer of vein graphite, where it is unlike any other in the world. When taken out of the ground, this graphite starts off at around 90% carbon content. In the case of the graphite Ceylon will be mining, its graphite samples have returned 97% carbon content and it has reported seeing even higher carbon content from other sample locations.   If the Company were to extract and sell graphite to the battery industry, it would need to be upgraded to the specific requirements of the producer depending on the type of battery.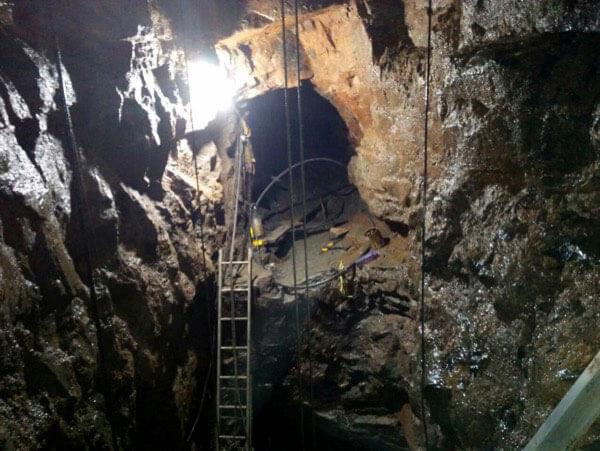 The key differentiator that really sets Ceylon apart, is its costs are anticipated to be close to $200 (USD) a ton when it brings its raw graphite out of the ground. This graphite has a current estimated market value in its raw form of $2,000 – $2,500 a ton. If upgraded to a battery standard of 99.99% Cg, could be sold for upward of twice that amount. This is a substantial margin, while other companies in the graphite mining world are looking at immense capital expenses to come into production. Ceylon Graphite follows a totally different approach, it is currently ramping-up to commence commercial production where other miners are scaling back because their costs are so high. As it stands, Ceylon hopes to sell its raw graphite to industries that don't need the resource upgraded.  The Company is, however, also considering the option to build a processing plant in Sri Lanka. Even so, it is a win-win for the Company because its raw graphite is so pure that Ceylon believes it can turn a profit with the product it extracts.
Sri Lanka landscape:
Prior to World War II, Sri Lanka was the largest global producer of graphite, where 58% of the global supply came from. Most of this work was done by British miners across the island, but their work was essentially – find a graphite vein and follow it in the mud to the rock deep beneath the surface. These veins weren't consistent and once the miners reached the hardrock, they would often move on to a new vein. This was a pattern of graphite mining in Sri Lanka until after the war, when prices went down and the industry went into dormancy. Fast-forward a few years and this has become the base hypothesis for which Ceylon Graphite built its business, and by discovering the remaining value that lies even deeper under the surface. The belief is that if anyone had mined up to the rock, there must be more graphite within the rock. Graphite in the overburden is usually weathered and is purer in the rock.
Currently there are three operating graphite mines in Sri Lanka; Kahatagaha (owned by the Government), Bogola (owned and operated by Graphit Kropfmuhl of Germany) and Ragadera (owned and operated by Sakura Graphite).
As for Ceylon, its wholly owned subsidiary, Sarcon Development, secured an Industrial Mining License Category A (IMLA) for its K1 Graphite Mining Project at the Karasnagla site in August 2019 and is moving toward declaring commercial production by 2020. The Company also has mines in Malsiripura and Hakbewa. These are in different stages of development.
Operations:
The Government of Sri Lanka has granted the company exploration rights in a land package of more than 121km². These exploration grids (each one a square kilometre in area) cover sites of historic graphite production from the early 20th century and represent several of the known graphite occurrences in Sri Lanka.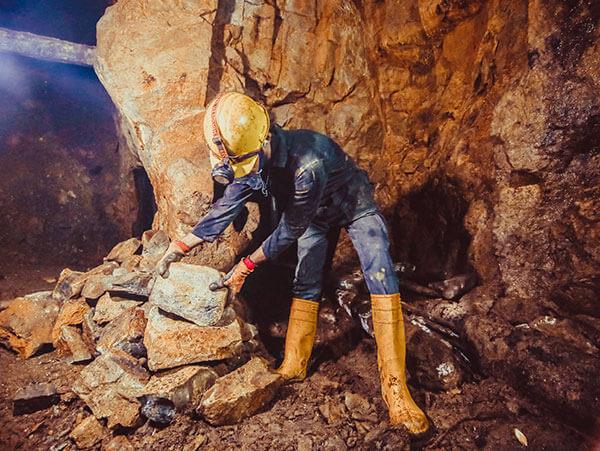 (Photo via Ceylon Graphite Mining.)
The Company is working at four sites. Sarcon Developments' K1 site boasts the distinction of having a Category A Industrial Mining License, which is the highest category license in Sri Lanka and grants exclusive rights to mine, process and trade in graphite mined within the area specified in the license. This also allows for underground multi-borehole blasting, commercial production, use of all mining machinery and equipment and export of graphite.
The K1 site is an excellent example of Ceylon's hypothesis in action. It took an old shaft, refurbished it all the way to the bottom and executed drilling around the area. It did further exploration work, and in the process, huge veins of graphite were discovered.
Celebrating the culmination of more than two years' work, Ceylon CEO Bharat Parashar hailed this as a huge development for the Company when this license was announced.
"Historically the GSMB has granted just four IMLA licenses for graphite mining in Sri Lanka including the Sarcon / Ceylon Graphite license. We have achieved this license in a short period of time thanks to the hard work of all our Sri Lankan colleagues. I must also thank the GSMB for their assistance and guidance. Today, we start the process to commence commercial production at our K1 site".
This was an immense milestone for the Company, as it is only the fourth mining license awarded by Sri Lanka since the 1980s. In October 2019; Proactive Research analyst Christopher Ecclestone took a deeper look into the development of this project.
He also talked about the difficulty other companies will face getting their mines into production and the challenges they will have to secure financing. Contrast from Ceylon, who's extremely low capital business means there is no requirement for project financing and can also potentially sell graphite at its highest margin, with high purity and low cost in an industry where anticipates it can always be the price setter and lowest-cost producer in the world.
The second site, M1, started as a small surface vein and sees even greater potential than the K1 site. Ceylon's exploration work has already hit the hard rock and have found veins visible to the naked eye as large as CEO Parahsar's arm span, reaching 6 feet across.
Upon further work at M1, the Company has discovered more veins to date. CEO Parashar said:
"We now have identifiable graphite at surface and below the surface in the overburden."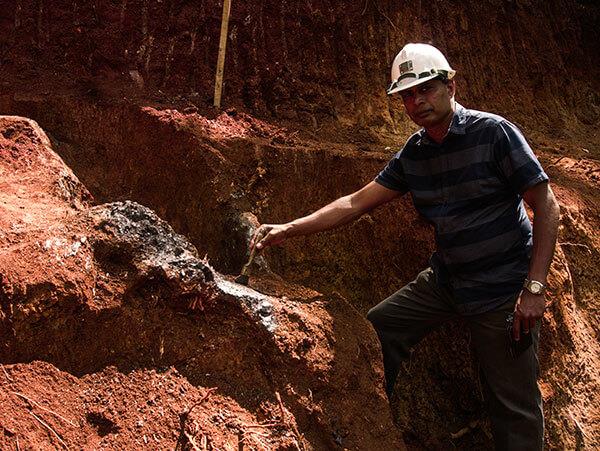 (Photo via Ceylon Graphite Mining.)
He added: "This discovery coupled with the veins we discovered earlier in the year at our other sites clearly demonstrates that Ceylon Graphite has a large resource base. Our plan to start commercial production at our K1 site imminently is nearing fructification and we hope to start producing at M1 by late next year."
Mining will not commence at M1 until Sarcon has secured an environmental approval for a mining license. The Company has already begun work into a basic shaft of around 60 feet and has completed an NI-43101 report on the project. The process is expected to take around six to eight months.
In the near future, the Company intends to advance work at its other two sites – P1 and H1, the latter where a large vein was found, and two drills are in operation.
On a conservative basis, the plan is to see each of these small mines produce around 4,000 – 5,000 tons of graphite per year.
Investment summary:
Ceylon Graphite has struck a real deal. This is not just a junior miner with an overblown story, they have literally been able to touch the veins and see how large they are in size. The Company has assembled a very tightly-controlled business (from an expense perspective), at a stage where its operations can quickly ramp up toward profitability, given more liquidity. When the entire global market is scrambling over a 60/40 synthetic blend, Ceylon intends to produce 200 tons raw graphite per month, taken right out of the earth and sell it, hopefully starting as soon as the dawn of the next year 2020.
Read more at https://stockhouse.com/news/newswire/2019/12/09/the-real-deal-sri-lanka-the-best-graphite-world